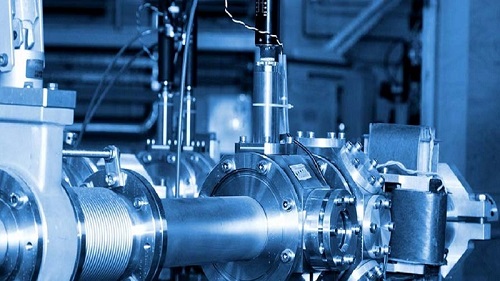 Maintenance and Industrial Engineering
The study in the Department of Maintenance and Industrial Engineering(MIE) spans over 3 years (6 semesters). It forms Technicians with many skills and qualified to take the necessary measures to avoid breakdown of Industrial equipment, also being able to maintain and repair this equipment in factories and companies.
This specialty includes several general topics (Mathematics, Physics, Law, Foreign languages, Expression and communication) and some deep scientific technological topics (Mechanics, Power, Electricity, Electronics, Automatic, programming). The study of these topics (subjects) enable the student to a university scientific and technological formation through scientific site visits to factories and companies.
In addition, students follow 14 weeks training in one of the leading factories or companies in order to let him go through the work experience, and give him technical and practical skills. It should be noted that the student, at the end of his university study, should prepare a final year project under the supervision of a faculty teaching member.
La filière Licence Génie Industriel et Maintenance(GIM) forme en 3 ans (6 semestres) des techniciens supérieurs polyvalents capables d'assurer la fonction de maintenance et de réparation des équipements industriels dans les entreprises.
La formation dispensée en «GIM» comprend une formation générale de qualité (mathématiques, physique, droit, langues étrangères, communication ...) et des enseignements scientifiques et technologiques approfondis (mécanique, thermique, électrique, électronique, informatique et automatismes). Ainsi, les étudiants reçoivent un enseignement scientifique et technique allié à une formation par la pratique.
Cette formation par la pratique comporte des visites, des stages en entreprise et des projets de fin d'étude permettant d'allier les enseignements scientifiques universitaires et les connaissances de la réalité du monde du travail et de l'entreprise.
Également, deux stages en entreprise (14 semaines) et un projet de fin d'étude tuteuré par un enseignant de la Faculté de technologie complètent la formation.
Courses
Semestre 1:

| Course Code | Course Title | Credits |
| --- | --- | --- |
| LS1ALGE | Algebra I (CE-MIE-CCNE-BC) | 3 |
| LS1ANAL | Calculus I (CE-MIE-CCNE-BC) | 4 |
| LS1CILO | Logic Circuits | 4 |
| LS1DETI | Drafting | 2 |
| LS1ELMA | Electricity andt Magnetism | 4 |
| LS1FRAN | English (CE-MIE-CCNE-BC) | 2 |
| LS1MECA | Mechanics I | 4 |
| LS1THER | Thermodynamics | 3 |
| LS1TFME | Technology of Mechanical Manufacturing | 3 |
| Total: | | 29 Credits |
Semestre 2:

| Course Code | Course Title | Credits |
| --- | --- | --- |
| LS2ALGE | Algebra II (CE-MIE-CCNE-BC) | 3 |
| LS2AGPG | Algorithmic and Programming | 5 |
| LS2ANAL | Calculus II (CE-MIE-CCNE) | 4 |
| LS2DRHO | Human Rights (CE-MIE-CCNE-BC) | 2 |
| LS2ELAN | Analog Electronics I (MIE-CCNE) | 4 |
| LS2MEFL | Fluid Mechanics | 3 |
| LS2MECA | Mechanics II | 3 |
| LS2PUEL | Electric Power | 4 |
| LS2TRTH | Heat Transfer | 3 |
| Total: | | 31 Credits |
Semestre 3:

| Course Code | Course Title | Credits |
| --- | --- | --- |
| LS3ANAL | Calculus III (MIE-CCNE) | 3 |
| LS3ANGL | Foreign Languages (French) (CE-MIE-CCNE-BC) | 2 |
| LS3DAOR | Computer Aided Drafting | 2 |
| LS3ELPU | Power Electronics | 4 |
| LS3MAEL | Machines and Electrical Actuators I | 5 |
| LS3RDMA | Strength of Materials | 4 |
| LS3STPR | Statistics and Probability (CE-MIE) | 4 |
| LS3TCDM | Technology and Material Testing | 3 |
| LS3THPN | Pneumatic and Hydraulic Technology | 3 |
| Total: | | 30 Credits |
Semestre 4:

| Course Code | Course Title | Credits |
| --- | --- | --- |
| LS4CIPR | Programmable Circuits (MIE-CCNE) | 4 |
| LS4COAO | Computer Aided Design | 2 |
| LS4EXCO | Expression and communication (CE-MIE-CCNE-BC) | 2 |
| LS4MOCN | Numerically Controlled Machine Tool | 4 |
| LS4MAAE | Machines and Electrical Actuators II | 4 |
| LS4MATH | Thermal Machines | 3 |
| LS4MENU | Numerical Methods | 3 |
| LS4TEMM | Technology and Mechanical Maintenance I | 4 |
| LS4AULI | Linear Control (MIE-CCNE)* | 4 |
| LS4SYEX | Operating Systems (MIE-CCNE)* | 4 |
| Total: | | 30 Credits |
Semestre 5:

| Course Code | Course Title | Credits |
| --- | --- | --- |
| LS5ENPR | Professional Environment | 4 |
| LS5ININ | Industrial Computing I | 3 |
| LS5ORGM | Maintenance Organization | 4 |
| LS5PDEE | Electric Power Production and Distribution | 3 |
| LS5TMM | Technology and Electrical Maintenance | 4 |
| LS5TEMM | Technology and Mechanical Maintenance II | 4 |
| LS5TEMT | Technology and Thermal Maintenance | 3 |
| LS5GEPR | Production Management* | 4 |
| LS5PRVH | VHDL Programming (MIE-CCNE)* | 4 |
| Total: | | 29 Credits |
Semestre 6:

| Course Code | Course Title | Credits |
| --- | --- | --- |
| LS6DRGT | Internship (14 semaines) | 6 |
| LS6PFDE | Senior Project (≈ 180h/étudiant-projet) | 12 |
| LS6DRGT | General and Labor Law (CE-MIE-CCNE-BC) | 1 |
| LS6CSEF | Structural Calculations by Finite Element (CE-MIE)* | 3 |
| LS6LOGI | Logistics* | 3 |
| LS6MDMC | Continuum Mechanics* | 3 |
| LS6SYTH | Thermal System* | 3 |
| LS6ENRE | Renewable Energy* | 3 |
| LS6GEQU | Quality Management (CE-MIE)* | 3 |
| LS6ININ | Industrial Computing II* | 3 |
| LS6TRIN | Information Processing* | 3 |
| Total: | | 31 Credits |
MIE INSTRUCTORS
| | Name | Scientific Specialization |
| --- | --- | --- |
| | Dr. Lina EL CHAHAL | Materials Science |
| | Dr. Abir Mohamad El Rabih | Pure Mathematics  |
| | Pr. Farouk FARDOUN | Energy Efficiency in Buildings |
| | Dr. Ghazi BOU SALEH | Electrical Engineering |
| | Dr. Hussein Ahmad KAIN | Industrial Automation and Control |
| | Dr. Hussein EL GHOR | Electronics – Telecommunications |
| | Dr. Ibrahim EL BABA | Electronics, Electrotechnics, Electromagnetism |
| | Dr. Khalid Soubhi FAWAZ | Control and Industrial Engineering |
| | Dr. Khodor ABDALLAH | Mechanics and Energy |
| | Dr. Mohamad CHAABAN | Electricity, Electronics, Electrotechnics |
| | Pr. Mohammad OUEIDAT | Electrical Engineering |
| | Dr. Mohamad YOUNES  | Mechanical Engineering |
| | Dr. Mohamed Helal AKOUM | Mechanical Sciences For the Engineer |
| | Pr. Nazir CHEBBO | Mechanical Sciences For Engineer |
| | Pr. Rabih MAKOUK | Mechanical Engineering |